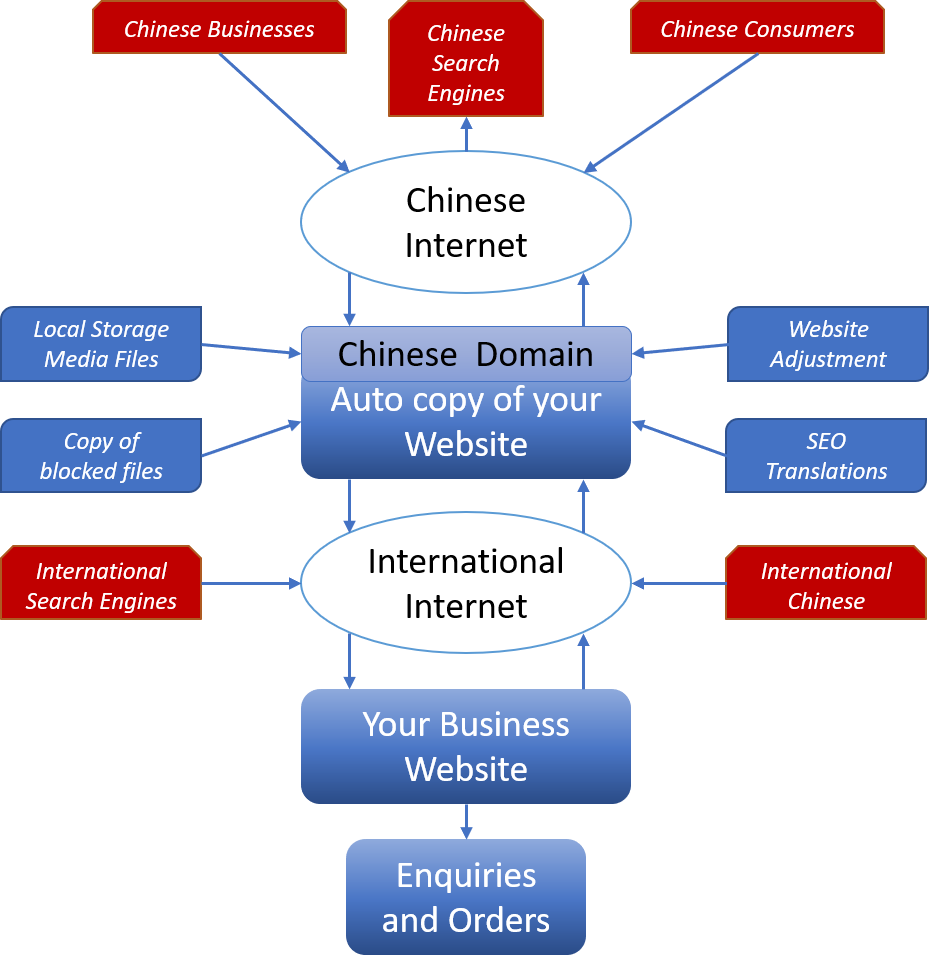 Being seen in China
The first step in trading on the internet in China is to make your website seen.
Make your website seen in China (1)
Changes in these areas are normally all that is needed to make to a website available in China;
Automatically copy your website
We automatically copy your website. This copy is maintained automatically as your change files and details on your website. This means you are only maintaining your website as do currently and not second website for the Chinese market.
Website adjustments
Using the copy of your website we make small adjustments to files and processes which are blocked in China. Normally these are not complex changes and we inform you what planning to do in the early stages of implementation based on the findings of the Chinese website preference testing.
You can run this performance testing: https://webtest.accesstochina.com
Copy of blocked files
Some files are blocked or slow to access from China. In these cases, we hold a local copy of the files; e.g. Google fonts files.
Speed up your website response in China (2)
These are the changes will speed up access to website;
Automatically copy your website
The automatically copy your website we host in China or Hong Kong depending on which Chinese publishing rules applied. This greatly speeds up access.
Local storage of media file
The largest files normally in a website are picture, videos, etc. Most websites change media files less frequently and therefore we store copy of these file locally in China or Hong Kong.
Make your multi-media available in China (3)
All international multi-media is blocked in China. Where appropriate, we create a copy of the videos, pictures, etc and storage them locally with the copy of the website.
We then in the website adjustments change the paths to the multi-media to the local stored copies.
Being Found in China
Once your website can be seen in China, we can start using the Chinese search engines.
Local hosting and domain name (4)
Step 2, the copy of your website, will be located in China or Hong Kong, to enable the speeding up access to your website.
Create the local copy of your website will require a local domain name. Search engine like local domain name which relates to China e.g.
Sub-domain name, e.g. cn.mydomain.TLD
A new CN domain name, e.g. mydomain.cn
A platform sub domain name e.g. mycompany.b2b66.cn
Translation SEO data into Chinese (5)
The key information of SEO data; descriptions, page titles, headings, should be translation into Chinese. This translation can be supplied by Chinese speaker in your or know to your business. If this available to you, we can supplier a translation service.
As part of the website adjustments, we subtracted the Chinese for the English.
Chinese search engine submission (6)
Your new Chinese domain, with the correction, are submitted to the current four Chinese search engines.
For here, we monitored performance and adjust as required.